Noplace, Oslo proudly presents:
WINE BOTTLES AND DILDOS
Bert Jacobs & Gabriella Forzelius
24.07.15 - 26.07.15
Opening: Friday 24.07.15, 20:00 - 23:00
...
Opening hours 14-17, Saturday and Sunday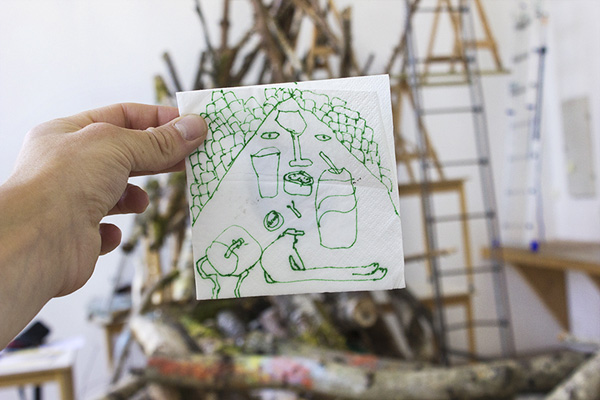 - heeey I see that you are reading hehe
- Hahha i am indeed
- are you using this material?
- Going to do some tests
- okey
I have worked with it before.
It is deadly
I tried ones to cast me leg in it
once
- Owh fuck
Thats abbad idea, you covered your leg with it?
- what?
- Super sticky stuff, you need some gloves and protection
- abbad, sound like a name
well I used plastic
- Otherwise it sticks to your fingers for weeks
- I have a picture on facebook when I doing it
really stupied
- You make me curious
- dont do it at home
- Hahah
- well just be careful
go outside
have a mask
- I just wanna make very boring foambuckets with it
- be prepared to run
- Nothhning special, just the material
Hahah
- I just kidding
I love the foam material!
I have made a two meter long mushroom in foam.
- There where it should be, in swedish gardens
Other question, something practical. Do you still wanne perform or not, or maybe?
- maybe,well I am not sure.
- Its all fine, would be cool though, i had a plan to call you while performing,
- haha
- To hear if everything is fine
Because one work is called : have to call gabriella
- yeah ir could work.
haha it it true soo nice!
- very unreal
- OOh I wish I could be in dale now
- Surreal and banale
- daydreamer
...
- Sory i got lost in the daydream
- yess! But then it also can change to something real, if we are convincing.
- Absolutely!
- nO note you, I am a daydream who wants to be in dale
but I think you are a daydreamer also and like it
I like it ..god
-True that!
When i wake up in the morning its the daydream that starts
Endless flow
It stops when i fall asleep again
And when i wake up it starts all over
- I know!!
- Ok! Ha det bra x
- ja ha de fint X X


- - -


The exhibition is supported by Nordic Artists' Centre Dale.


-


DOCUMENTATION