Noplace, Oslo proudly presents:
WATCH ME LEAVE
Marie Svindt
21.02.20 – 08.03.20
Opening: Friday 21.02.20, 20:00 – 23:00
...
Opening hours 14–17, Saturdays and Sundays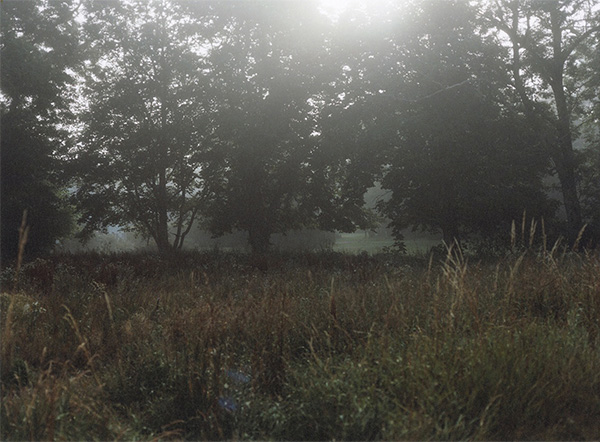 I have a naïve idea that it is possible to say everything to another person. Not just suggest, but say it. In an extension of this idea, the body is free and not secret. The clothes fit loosely for some emotional, professional or practical reason. One can undress in front of anyone at all and relate to the world via the body. In the final analysis, there is nothing more to hide. But if one wants to say and show everything, one must perhaps also suggest and conceal, as in the transition between dressed and undressed.


I am standing by a patch of ground which lies right next to our summerhouse, to take a photograph at sunrise. The plot is used for growing different kinds of grain or grass. Sometimes, like now, it is a meadow. The sun glitters along the blades of grass and everything is sharp and soft and cool and mild. One can lie in the grass there. In that case, would it be an act marked by both stagnation and drive, discomfort and pleasure? Right now the square inside my camera boils down to dew drops, skin, sun, pulse and fantasies about sex. Nature drunk.


I go back inside. There I stand in front of a mirror set in the window that faces the garden, which borders on the same meadow. The mirror has three panels. I lean forward and look down into my camera, see myself … there are two of me. In the third panel I see the kitchen. I have only gotten around to putting on an old flowerprinted home-sewn waistcoat. The room is neither light nor dark. At the photo lab I tell the guy who does the darkroom work: "I like the photo, love the mirror, the light and the place… The woman standing there certainly seems to have a gloomy agenda. But why isn't she wearing any underpants?" "Does it really matter?" he replies. "She's not that naked, Marie. It's just right, like the people in the other photos." When I look at the finished photograph, I think that the woman standing there could be a gipsy, a saint, a housewife, or a criminal. It might seem tranquil, but she is going somewhere. Triptych mirror.


You are standing right in front of me wearing a cheap lace outfit. "There is nothing delightful or sexy about these now," you say, pointing to your breasts. "You're photographing me at the wrong time of the month." I laugh and say I disagree. You put stars in my eyes. Regardless. You are neither naked nor dressed. We have talked a lot about what one can say to someone else. Someone one likes. Or rather, why one can't say everything … In this everyday life where we depend on being able to interact, cooperate, function socially. Almost everything has been systematised. There are so many structures and expectations that chaos would erupt, if one transgressed the norm. "I need an adventure … very soon," you say. At times I have thought that you burst the boundaries of what is possible within real life. At a price. But it comes naturally to you. You have a big heart, it is flexible and knows few rules. It is impossible not to like and admire you. But I have also called you irresponsible and egoistic, and you have called me judgmental and rigid. Recent baby.


I met you occasionally on the street and in the park. We live in the same neighbourhood, but I don't know you. When I see you again after a long time, maybe a year, you are a mixture of soft and hard. With a greater solemnity. We are standing in the kitchen of your apartment. The sun has begun to shine in. That's good, otherwise there wouldn't be any photos today, and who knows when we would find time again. You tell me that you don't think everything should be said between two people. It runs against a principle or a quality that attracts me, making you seem mystical and refined. And a little annoying. When we take photos you do exactly as I tell you to. Clothes off, on, and off again. You say nothing. And yet you have the upper hand during the entire séance. I am a tool, a trigger, an observer, or just an amateur. I wonder who you really are. I put lipstick on you, and smear it over your face. You give me an indeterminate smile. I understand that all mouths and smiles are unique, but it isn't that, this is different. I look down into the camera and you are a wolf or a clown. Or gloomy, needy and creative. The circus princess, or the woman with an undefined but doubtful profession, is lost love and your mouth is so lovely that there is no ceiling. No ceiling.


Although we were always in the same class, we wrote letters to one another. A secure channel where everything was permitted. The only element of risk was the handover, for we didn't trust postmen. Once you went to a party wearing your friend's suit, with nothing underneath. You laughed until you cried as you got dressed, and he (who didn't get you, but took me instead, for a brief period) sat in a chair and looked at you with an unmistakable expression on his face. Around the same time, when we were in our late teens, my big brother claimed that rumours were circulating about us. I don't know, then or now, what they were about. When he told me, I gave him a crooked smile and a disinterested "Oh really?" "We are going to make mistakes, Marie," you say. "As mothers, wives and nurses." I think that if you deviate from the system you have been trained in and are legally obligated to follow, you may end up killing someone. The risk is greater in your department, but I too could injure someone gravely and permanently. If I'm not focused, up to date or if I permit myself to daydream. This makes us professionals, people in positions of power and potential criminals. But it also makes us proud. It provides meaning. "I want more tranquillity at home," you say. "The temperature is too high. I don't know what to do about it." You have pulled on a transparent, body-length lilac-coloured suit with another suit over it. We are going to take photographs and you change the topic again: "Marie, look what I can do!" You fold your body in two, then you grab hold of one of your feet and lift your leg up high. Agnes.


We met on a Wednesday, and by Sunday I wanted you to be mine forever. I wonder where or who I would have been without you. You give me everything. Including the freedom to float a few centimetres above ground when I'm not at work. Which I need to be able to be a mother, wife, nurse, artist, daughter, friend, dog owner, member of society. Once I was so bored that I left myself behind. Boredom can be the same as pressure, or the absence of silence. I chose the most exiting diversionary manoeuvre I could think of at the time. But you held me back. Not so much with words … but with your nose, eyes, mouth, neck, hands and the rest of you. And with our walls and all the other fantastic things we have created. You are sitting in front of me at the edge of the water. Perfectly still. In a swimming suit that never has time to dry. Lost and found.


"I'm worried. I have a lump on my arm which my doctor wants to have examined. You know, Daddy, I may have developed cancer." My father, who has survived cancer several times, laughs and tells me, "Relax, Marie. Think of something pleasant! Think about sex! That's what I do when I get cancer." I look at him, I say, "Daddy, please …" I have always really liked that rose tattoo. My brother and I asked you to pull down your eighties' underpants so we could see it. You got it on a journey when you were sixteen. You know a lot about history. "Rose of no man's land" is an old term for the nurses who served at the front during World War One. Right now you belong to no one. The people who help you most are the nurses you meet during certain periods. Who exercise a warm and mild form of coercion. Who can handle your compliments and your witticisms. Who motivate you to take care of yourself. Ask you to change clothes. And give you a certain hope. Rose of no man's land.


It's far too hot. And white and pink and beautiful. Inside it is dark and cool and naked and delightful. But it isn't my place, so I have to stay out here in the heat. White and pink.


You are dark all year. But that's just on the outside. You are fundamentally positive. "I'm more afraid for my daughter than for my son," one of the doctors at work tells me. "Why are we so afraid for our daughters?" he asks. I answer that I have the same feeling about it. Why do I have an idea that my son is more secure, stronger. Is it because he will soon be a man and has begun to have something I might wish I had more of: testosterone. That thought makes no sense. We toss a pink heart-shaped balloon between us, and you say, "Mummy, you're not allowed to send it back until you kiss it!" Then we bake a cake, for my forty-first birthday. And you say, "Do you have any idea how many good things there are in this life?" "I have a strong suspicion," I say and smile. White and gold.