Noplace, Oslo proudly presents:
TOTAL GUT 1999-2003
Gutengut
08.01.16 - 17.01.16
Opening: Friday 08.01.15, 19:00 - 22:00
...
Opening hours: 14-17, Saturdays and Sundays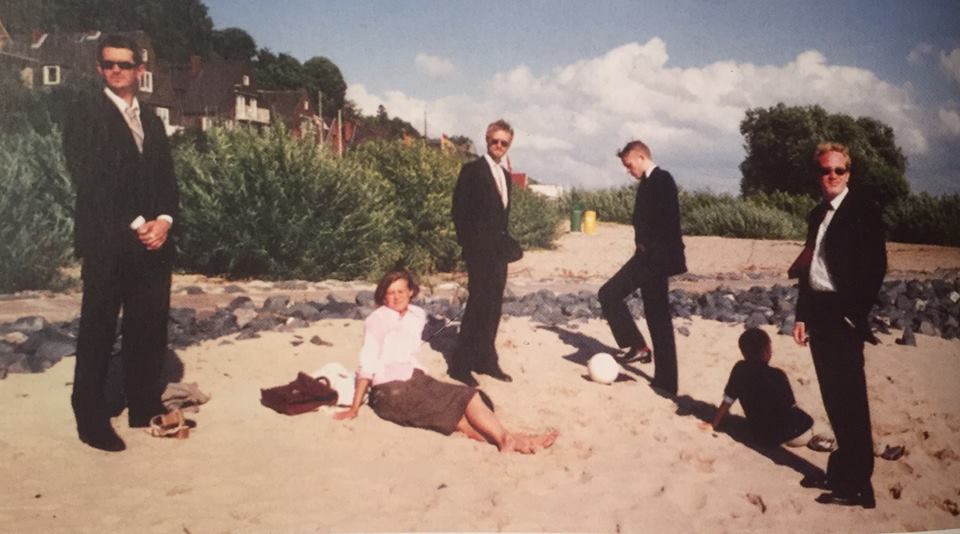 "In the old days, getting the group together brought us all great happiness. We are hopeful that that will remain the case."
- Gutengut, 2016

Gutengut are Kim Nilssen, Mattias Åkesson, Marius Amdam and Henrik Placht; Total Gut is a retrospective of their collective works spanning the years 1999-2003.

Thirteen years have past since the group last all met and finally this week they reunite to fill Noplace with a large selection of paraphernalia from their past production.

Gutengut will show works that have been included in numerous exhibitions, campaigns and venues around the world, and will include video-works, sculptures, paintings, drawings, photographs, a Red Army Faction relic from Stockholm, Lars Vilks' drawings, The Art Academy in Ramallah, posters and more.


-


Useful and moralistic
Lars Vilks

Art is by tradition seen as autonomous and useless. These two characteristics are related. The autonomy is identified in the aesthetic experience, which is useless. But it is not completely true. The aesthetic experience is connected to a spiritual communication, a mystical character of art, useful in a deeper sense. These ideas, though not completely dead, are, of course, to be found in the Romantic and Modernist era. Moving towards the contemporary scene, the idea of art will get at the same time easier and more complicated.

Art has been recognized through the aesthetics. But since the breakthrough of the institutional theory ("everything can be art") it has in a sense lost its identity. One can say that art is recognized as art because it is art (and this may then be a fact conferred by the artworld). But there are more to point out. Contemporary art, obviously, is dealing with the social, a content based on social matters. It is a decisive turning point: from the sacred form to a content connected with the social. This will bring about some rather new issues. One of them is about the usefulness of art. What could then art be good for? Should it serve the social, take moralistic standpoints? This is a difficult problem as art, by a strong tradition, is not very well off with political correctness. Rather the mock with important issues, rather surprising and provocing statements. On the other hand, using these methods, art moves easily into being too ironic or even inte satire. That is just too simple. So much art today is dealing with an irony being not ironic. That should mean that the issue of irony keeps a low level: could be, could not be.

I think the gutengut working area fits into this description of the contemporary scene. Their projects is often - more or less - social issues, and they are hardly acting politically correct. In their earlier works, especially two projects made in Berlin in 1999 and 2000, their interest seem concentrated on the artist as entrepreneur, art corresponding and partly mocking the ideals of business and management. But it is still a hidden irony, not taking any moralistic standpoints. In fact it seems to be a description of their own way of working, totally identifying themselves with the world of business, companies and teamwork. Normally their works are cooperational, all of the four members making the projects without stressing any individuality.

Are they serious? One can ask that question about many works. In Galleri Enkehuset in Stockholm they divided the audience on arrival into to different parts of the gallery "A/B" (2000). In a way this is a rather typical example of relational aesthetics. The audience is creating the content of the work, though here manipulated by separation. On the contrary such pieces usually are presented with some ambition of accomplishing something. But that seems not to be the case with gutengut. It is as there is a secret hidden somewhere, which hardly is the case. The effect is surprising or strange; the same effect can be found in "Urban Legend, Naked Woman" (2001). Budgies flying around in a gallery in Bergen juxtaposed to a copy of the famous terrorist box, where the swedish minister of justice should have been put, had it not been that the police was faster. The aboutness of this project is somewhat stronger as the associations clearly circles around democracy (the budgie being the democratic bird, known through ornitology) and the terrorist planning to strike against the democracy in order to hopefully create a society that should be more democratic. It seems that the artist doesn't really care, which might be a point of view in accordance with the freedom of art: The artist presenting the facts, diffusing the issue with partly unfitting combinations of statements (or could-be statements).

Gutengut as a production unit was shown in a project in Kunstforeningen in Bergen 2001. The four members had installed a showcase in one of the rooms, though it was not possible to watch the artists working inside it. During the exhibition they produced a painting exhibition which was shown later. Albeit they all have more or less background as painters, as most artists still have, the outcome is more about the deconstruction of painting than of the quality of the paintings. Ambitious painting is extremely difficult to accomplish today, but to produce ordinary items is on the contrary easy. Keeping away from the effort of making individual works, this production was a group achievement and not addressing any certain issues in painting, but rather the status of painting in general.

Having certainly a broad repertoire (including installation, relational works, painting, conceptual works, curatorship video) one could still be astonished of the video "Osvald" (2001). This video deals with a play by Ibsen, "Gengangere" from 1885. The main character of the play, Osvald, returning home from abroad, are met with the dark truth about his background. From his dead father who has been living a debauched life he has inherited a bad disease which soon is to end his life. His last days in life is a mixture of confronting unpleasant facts about his father, and being taken care of by his mother. The gutengut version of this rather pathetic drama is a video showing some scenes from the last act. Amateurishly played, and with one of them straightforward as the mother, it is, at least to a certain extent, a funny and jaunty performance. But not really. The performance is done as if it were the real thing which turns out being more a way of showing the theatricality of Ibsen, and the theater in general, than giving the spectator some fun. The question "Can we take it seriously?" has here two meanings, referring to both gutengut and the classical idea of the tragedy.

No doubt, gutengut is in their work posing some interesting questions about the identity and characteristics in contemporary art. Is it necessary for art to be useful, and in what way? Does it need a moralistic standpoint? I think that gutengut without a conscious intention is working in an open field of questioning whether art is useful and correct. Not that their art can't be given a meaning; that is always the job for the audience and critics, but rather all the loose ends to be found in it. It is, anyway, a picture of the contemporary world, confused, amusing but not very funny.