Noplace, Oslo proudly presents:
THIS IS QUEEN
Marte Gunnufsen
29.05.21 – 11.07.21
There will be no opening event, only regular opening hours.
...
Opening hours 14–17, Saturdays and Sundays
We'll accept a maximum of 7 visitors in the exhibition simultaneously.
Wearing a face mask is required upon entering the gallery.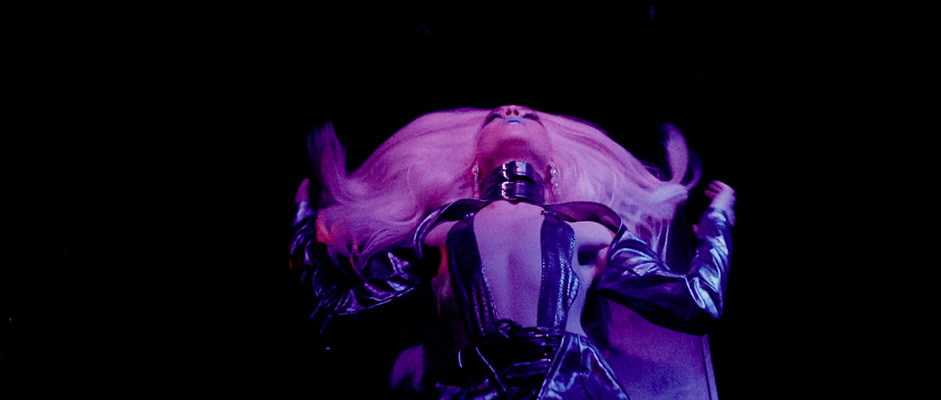 ÅPNINGSSALME

I påfuglskrik og trengsel
I gatens larveråk
Her er du ingens lengsel
Her er du ingens åk

I skyggens dal, i vredens favn
I Jesu gylne kjeve
Her venter du i plast og fjær
som dronning, klovn og greve

Din kjole er av tanker
Av blod og ben og hud
Du danser med din Skaper
Du danser med din Gud



BENJI

Dette er ikke diamanter. Slangen løfter hodet mot speilet, viften går, dronningen, det er meg. Jeg er svanen med hårnett og dekkstift. Jeg er limet på vippekanten. Jeg er den lyseblå leppestiften. Jeg er øyelokket som blunker kontaktlinsen på plass. Jeg er søkket i øreflippen, tynget av smykker. Jeg er tråden som knytes i nakken. Jeg er kjettingen som strammer over kjøttet, jeg er gutten på soverommet, knærne mine dunker mot hverandre, for jeg hører en sang.


Jeg er den fiolette kammen. Jeg er viften mot svetten, stiften på såret, trykknappene i skrittet. Jeg er platåhælene støpt i plast. Og jeg senker blikket i plutselig blygsel, jeg rødmer under mitt eget blikk; du har aldri sett noen skjønnere skapning.

Jeg går forsiktig i bratte, gamle trapper, jeg legger meg på rygg, jeg er bukseseler festet til brede halsbånd. Jeg er oppstandelsen og livet, jeg er Death Drop. Jeg er glassgutten på soverommet, knærne mine er bredere enn lårene, og de dunker mot hverandre, i takt med musikken ingen andre enn jeg skal høre før den dagen alt blir mitt.

Jeg har glassko, se på glassdrømmen min, jeg har glassjel og glassledd, og i min ballsal er det glitter mellom flisene, det er det finknuste støvet etter splintene fra hjertet mitt. Jeg har tentakler, jeg har silketråder, bitch, du kan gjerne slå; jeg tør det. Jeg danser, jeg gjør det for deg. Jeg løfter armene mot lyset, jeg gjør det for deg. Det ligger en død homse under hotellsengen, det er tykke pudderlag på gulvet, jeg danser videre fordi jeg kan, jeg er erstatteren din, jeg er her for å ta over.

For dette er ikke diamanter. Dette er en halvdrømt sang. Hører du skorpene treffe gulvet? Dette er ikke diamanter. Det er strass, motherfucker, bitte små strasstårer, de faller lett, men pass deg, det hender jeg har kniv. Og kofferten min slår mot trinnene, et av gangen, snart ser du meg ikke mer.



LUCY

Dette er mitt legeme. Rett ved betongsøylen og glassbyggersteinen. Jeg er tegnefilmen, vær forsiktig med håret mitt, legg det i plastboksen og sett på lokket. Har du kommet for å forråde meg?

Referanseområdet, rammeverket, jeg har ikke tid til å snakke. Det er min tur til å danse. Kan alle trekke seg litt tilbake, for her kommer solstormen, her kommer det sorte hullet, her kommer den gule dvergen. Rykk tilbake til konseptuniverset. Du fornektet meg, Louisiana. Du svek meg, Kansas.

Nå velter candyflossmaskinen, nå snøres korsettet. This is Queen, på gulvet under sengen hadde noen skrevet


Mamma og pappa elsker meg
Mamma og pappa elsker meg
Mamma og pappa elsker meg


Kom, barn. Stjel meg en parykk, sy flengen i skjørtet mitt så det kan klynge slik det skal klynge. Blås pudder av skuldrene mine, for jeg har brukt så lang tid, natten er ikke lang nok. Ikke en tåre mens jeg trenger meg frem, ikke en klage når jeg bryter meg ut. Jeg trenger ikke si farvel, men gjør det likevel:


Adjø, Louisiana
Adjø, Louisiana
Adjø, Louisiana


Jeg sa: det er min tur. Dette er forretninger, jeg har jobbet lenge med disse konturene. De slo hverandre i hjel, jeg stod bak døren. Del meg mellom dere. Husk meg, bitch. Og dette er blodet mitt, svelg det rett ned, la meg gurgle deg varmt i strupen. De har sveket meg før, de gjør det gjerne igjen, men nå er det natt. Nå er det min business, nå er det mitt blod. Her er tyngden av kulen i taket, her er vekten av tiden. Her er skriften på låret, her er det knirkende nyfødtskriket mellom sorte lepper. Her er papirviften gjemt i øverste skuff, her er sikkerhetsnålen gjennom øret. Her er øyelokket som strekkes når vippene dras av. Se på meg, helt til jeg er oppe og ute i lyset, helt til jeg er borte, se på alt dette som er mitt. Jeg er en rosa dritt i candyfloss, og deg, Louisiana, deg elsker jeg aldri mer.



PERLEPORTEN

Ikke en saltvannsperle i sikte. Glassbarna stjeler, de kjøper hårspray for pengene. Glem ikke strass, glem ikke morild, glem ikke kolibriene. En tiur roper skorpeskrik, en struts ler i silkedress, good night, Bluebird, good night.

De har esker med sedler og øreringer i nattbordet, hundre ensomme barn roper i pels og fjær; husk meg når du kommer til himmelen?

Still opp, still opp. Snart skal slottet brenne. Der er dronningens håndlanger, kongens løpegutt, der er kammerpiken. Der er narren i cellen, der er halsbåndet med de lange piggene som peker ut i mørket. Der er leppene i skjegget. Der er drømmen i ulvetimen, strekmann og sandkvinne, der er Chicago, og når flammene tar tak, kommer lyset til glassbarna i skyggeland, da kommer ilden.

Da kommer kurfyrsten av Brandenburg, hertugen av Preussen, skjeve Fritz med sin skjeve skulder, Kong Fredrik I med sin tyngede datter. Hun har brudekjole av ferskvannsperler: Far, gi meg hundre kilo og sy dem fast, jeg vil falle i kne under vekten av dem, and I love how there are diamonds all over your titties. Da kommer keiser Ming, da kommer Jerusalem, da kommer duggdråpene, alle som lå og sprellet i sitt eget blod da de ble født: Replace yourself. Replace yourself. Replace yourself. Alle glassbarn, kledd til Purim, kledd til natt, resten må stå igjen ute, men dere skal være med. Bitte lille glasstyv under sengen, be meg ikke huske deg, for jeg går ingen steder uten deg. Sannelig, jeg sier deg: I natt skal du få være med meg til Paradiset.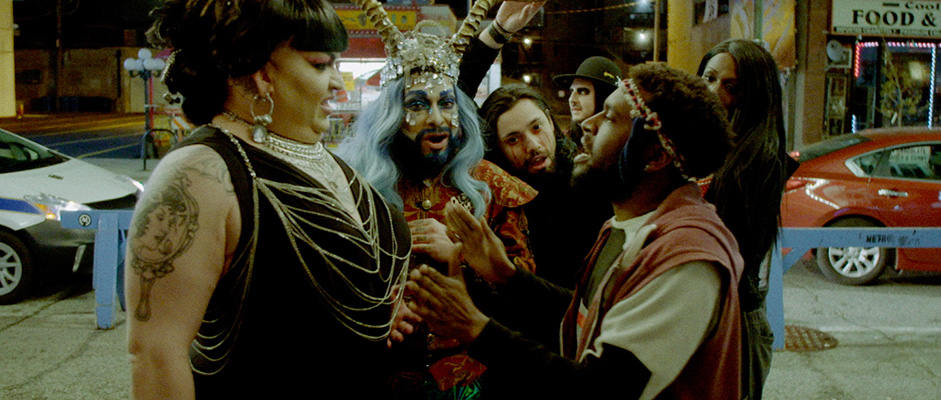 - - -
Noplace follows the coronavirus guidelines from the Norwegian Institute of Public Health and will make sure that advice about social distance and infection control is being followed throughout our opening hours. This includes a limited amount of simultaneous visitors, supplied hand sanitizing equipment and a short-term visitor registration. If you have any of the symptoms of Covid-19, please stay home.