Noplace, Oslo proudly presents:
SUPERDEEP BOREHOLE
Kjetil Berge
04.11.16 - 20.11.16
Opening: Friday 04.11.16, 20:00 - 23:00
...
Opening hours 14-17, Saturday and Sunday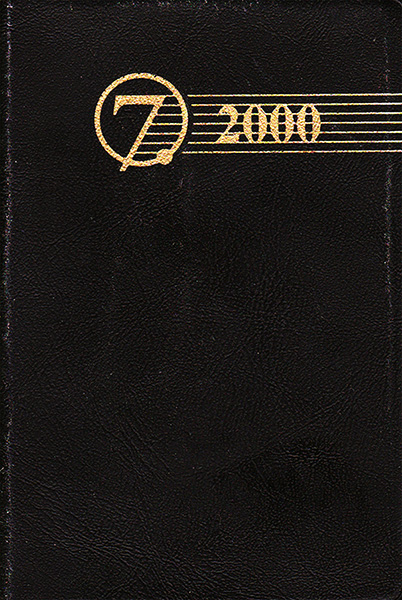 January 2000


Monday 3rd

Nice weather with some sun. At home all day.
Both now have cold but are getting better.


Tuesday 4th

Storm during the night. The weather held and partly sunny.
At home all day. Cold now a little milder.


Wednesday 5th
Cloudy, the weather held. At home all day.


-


In the gallery is a shelf with the collected diaries of the artist's father, full of daily observations, repeatedly entered over an entire working life of 63 years. Also present in the exhibition are sound recordings of the artist reading from the diaries, one full year at a time. Each reading begins with when and where the artist is at the moment of recording, making the readings evidence of the son's life as well. The backbone of the diary entries is sober and simple, stating date and weather conditions. The continuous atmospheric measurements refer both to the title of the work and the kind of books used – Almanakk (almanac). The word probably comes from Arabic, al-manākh, "climate", reflecting its original purpose: to inform about how to best take care of the land according to the seasons.

The gallery space is partly filled by a framework of a room: a set referencing a 'futuristic' museum in Monchegorsk. The exhibition also contains two other sculptures, a chair and a lamp. The chair is inspired by illustrations from a 'How-to-Make' book found in an attic. The book is from the interwar period, printed in Germany - when Berge's father was young. A kind of testimony, and an incitement to take matters into one's own hands, at a time and in a country where government had failed.

Paysage Polaire is a work that contains illustrations from the same book. These are two stage-sets where one can cut and put together ones own polar landscape. They are put together into an assemblage with watercolours on folded glace paper. The artist calls the folded sheets: polar caps. This name refers to the icy lands on the South and North Poles, while simultaneously referring to the fact that the objects that can be folded, changed and assume new functions depending on the situation or emergency one finds oneself in.

Despite the fact that constantly changing atmospheric conditions these days can be measured and predicted with greater accuracy, Berge's father's observations come with more authority and calm. They contrast with the alarming and unpredictable relationship to climate that we have today, because they seem reliable and predictable; the polar opposite of the unsettling observations on local and global climate that we now hear on a daily basis.

Perhaps the exhibition can best be described with the word monument: possibly a salute to the artist's father, but without glorification or pomposity. The word should be understood as a deed: "Monument" comes originally from the latin "Moneo" or "Monere" which means to remind, give advice or warn. A deed that remains, to remind the present about the past.

A similar sentiment may be found in the work Superdeep Borehole, which also provides the title of the show. The lamp's bulb pulses with the rhythm of breathing, as if emitting a signal. Its dome is from a warning light, a found item picked up at the remains of a Soviet project, the Superdeep Borehole on the Kola peninsula. That project's objective was, by drilling through the Earth's outer layer, to survey as many as possible of the Earth's various geological layers, to measure how climate and shifting conditions had shaped the planet over time. The hole is still the deepest penetration to the Earth's crust, a physically intrusive intervention of nature with the aim to learn and observe.

Superdeep Borehole can be seen as an attempt at crisis management: a proposition to look back, to observe and be advised.

The trip to the Superdeep Borehole, Kola was hosted by Pikene på Broen and arranged by Cornelius Stiefenhofer. Noplace, Geir Losnegard, Laura Emsley, Lynne Segal, Øyvind Rongevær Kvarme and the Bergen Office, by Djupegodt Berge, have all been pivotal in the execution of the exhibition.


-


DOCUMENTATION