Noplace, Oslo proudly presents:
NIGGLING GRID
Linda Lerseth
29.04.16 - 08.05.16
Opening: Friday 29.04.16, 20:00 - 23:00
...
Opening hours: 14-17, Saturdays and Sundays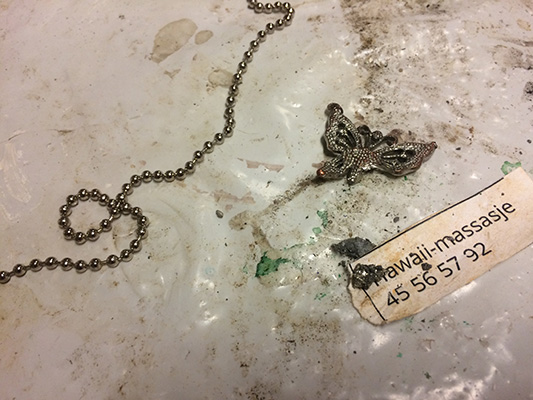 Approaching one's surroundings can be roughly divided into two categories; one can face them by moving freely through space and time, or; one can stand still and allow the current to approach.

In most parts of the ocean one can find a jelly-like tunicate called sea squirt. This species has gone through a biological reduction. Over time it has simplified its anatomy to optimize its purpose. When the sea squirt is born it consists of a fin, which travels upward through a notochord, and ends up in a neurological aneurysm that functions as a brain. Swimming around in the ocean it searches for an area with nutritious water where it can latch on to a surface. After settling it will consume its own brain. The energy obtained from this meal is transformed into a protective cape with two holes; one that allows water to enter, and one where filtered water can escape. The sea squirt is locked into position, consuming the current of the sea until its death.

The most extensive search in the history of aviation got its breakthrough when random garbage collectors found a piece of the wing from Malaysia Airlines MH370, on the beach along the coast of Madagascar. Major parts of the wing were covered by shells and other marine organisms that had attached themselves during the drift through the Indian Ocean. By analysing these organisms investigators could now trace the journey of the wing with great accuracy and calculate a likely crash site.

Regardless of how one chooses to approach one's immediate surroundings, one will be exposed to a continuous surge of impressions that has to be evaluated. To be able to deal with this the brain has a centre attached to the optical nerve called the thalamus. Through a life span the centre is gradually trained to filter out superfluous visual information. The advantages from this evolution are that one will not have to deal with every single happening freshly on each occasion: exiting the door to one's residence, walk over to one's studio, executing one's work, stopping on the way home to buy groceries, eating dinner, having a run or drinking a couple of beers etc. Through a lifespan a relevance filter is generated where one simply and automatically will end up seeing what is the most energy efficient.


-


Å tilnærme seg sine omgivelser kan grovt sett deles inn i to kategorier: man kan møte dem ved å bevege seg fritt gjennom rom over tid, eller: man kan stå helt stille og la flommen komme mot en.
I store deler av havet kan man finne et geleaktig lite kappedyr som kalles sjøpung. Denne arten har vært utsatt for biologisk reduksjon, som vil si at den over tid har forenklet sin anatomi for å optimalisere sitt formål. Når sjøpungen blir født består den av en svømmehale som går opp i en ryggstreng og munner ut i en liten nerveutposning som fungerer som hjerne. Den svømmer omkring i havet for å finne et område med næringsrikt vann hvor den kan feste seg til et underlag. Deretter spiser den sin egen hjerne. Energien fra dette måltidet brukes til å danne en beskyttende kappe med to hull; et hvor vann strømmer inn, og et hvor filtrert vann strømmer ut. Sjøpungen står fastspent slik og gaper i havstrømmen til den en dagen den dør.
Luftfartshistoriens største leteaksjon fikk sitt gjennombrudd da noen tilfeldige søppelplukkere fant deler av vingen til det forsvunne Malaysia Airlines MH370 på en strand ved kysten av Madagaskar. Store deler av vingen var dekket av skjell og andre marine organismer som hadde festet seg på veien over Indiahavet. Ved å analysere disse organismene kunne etterforskerne nå med stor nøyaktighet spore vingens snirklete ferd gjennom vannet og tilbake til en sannsynlig krasjlokasjon.
Uavhengig av hvordan man velger å tilnærme seg sine omgivelser blir man utsatt for et uavbrutt velde som må tas stilling til. For å takle dette har hjernen et senter tilknyttet synsnerven som heter talamus. Gjennom ens liv trenes senteret opp til å filtrere ut overflødig visuell informasjon. Fordelen med dette er at man slipper å forholde seg til absolutt alt på nytt hver gang man for eksempel går ut døren, går til atelieret, arbeider, går i butikken på vei hjem, spiser middag, løper en tur, drikker et par øl, etc. Gjennom et levet liv konstrueres et relevansfilter hvor man helt enkelt ender med å se det som er mest energieffektivt.


-


DOCUMENTATION