Noplace, Oslo watchfully presents:
I CAN SEE FOR MILES AND MILES
Christian Tony Norum
02.08.13 - 11.08.13
Opening: Friday 02.08.13, 20.00 - 23.00
...
Opening hours 14-17, Saturdays and Sundays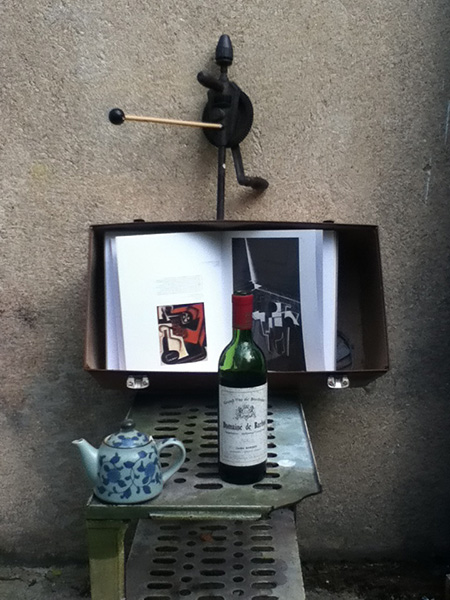 I'm sitting at a round table again. The table has lion feet and the table is made of rocks. The light is lit and the Knights of the Dark are arriving with the treasures of the dead. Someone is there, who is coming at this time of the Dark Night, I don't know before I can see the spirit of the artists from all over the world. The oracle and the gatekeeper of the big picture are the eyes of every artist that pray for the power of magic and her soul. The furniture is also speaking to me, they are from the 1700s, from a castle in Hungaria and they are saying that now the bohemians from Kristiania are coming to speak with you. Hey Munch, cool, long time since i spoke with u.
M- Hey Tony how are u?

T- I'm OK, I'm on vacation from the tourists of the universal installation. Have u been painting lately?

M- What a silly question. Of course, I'm a painter, I do stuff. I fill my canvas with soul and feelings. I'm not a minimal artist nowadays, trying to suck dick for a designed Merchandise.

T- He he, I know, it's fucked up if you don't. Being someone's gallery-project, eating your socks and a wannabe artist with no expensive cigarettes.

M- Shut up, You think you are the shit. But you are in your own head without the reflection of talking.

T- What do you mean? I'm a painter sometimes, and sometimes I want to go on a vacation visiting you people. It's so many artist now that I'm glad I'm not a ordinary person from Art Now. It's so good to tear down the heroes of the knight, aren't you also afraid of the gate of the bad dead spirits and the suicidal prisoners?

M- I lost more people than you know, especially with this hype hipster times. Everyone is screaming my name and thinking I'm a good artist because my family died. For fucks sake.

T- I'm sorry Munch, I love u!

M- Are u gay or something?

T- I'm in love with art and love it. Its not only you that gave art the unknown ego feeling. Or what do you mean Asger Jorn? Your drive is the old cave men with stones on there head.

A- I'm inspired by you mister Munch, and also the folklorist and animalistic, and I don't have to tell u anything I just paint and trust myself and all my helpers and colleagues, put them into a group so we can exclude them from the fun of it and be so professional that we could play with our children.

M- I have more kids than you ever will have Jørgensen.

Munch raises the glass and sits down in the chair. The chair makes a squeaking sound and he takes a cigarette and lights it and takes a deep breath.

A- Cheers guys and women! The big table with all the heroes, that don't know they are heroes before they died, and they meet there as heroes. All the kings and queens of art and noart- Cheers!


-


DOCUMENTATION