Noplace, Oslo proudly presents:
ALBUM 2014
Talleiv Taro Manum
Friday 09.01.2015 (one night only)
52 minute film screening at 21:30 sharp
...
Opening hours this Friday: 20:00 - 23:00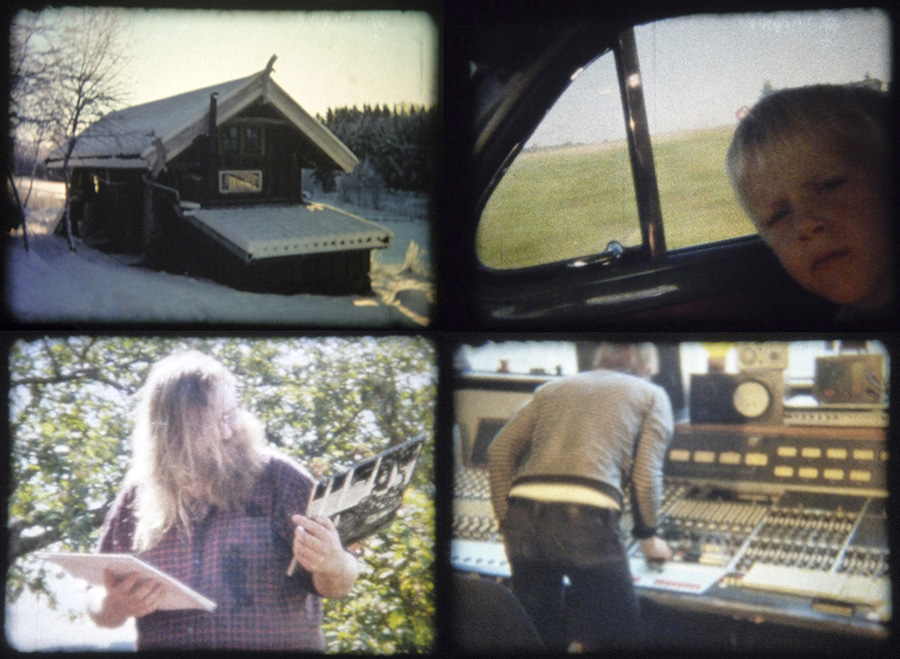 In Richard Linklater's unique 2014 film, Boyhood, the life of Mason Evans Jr is followed in real time for twelve fictional years from the age of seven. In the penultimate segment Mason is gathering his things to leave home for college as his mother sits crying. "What is it Mom?" he asks. After listing various milestones of their thus far intertwined lives, she replies, "I just thought there would be more".
To focus on a past that glows so much brighter than the present makes me feel very warm. I lie back on the sofa, the stove is fed more wood, my wine glass is filled, and another roll-up rolled. After false starts the album and its picture-track are synchronised and we proceed for the following 52 minutes. The LP is a bootleg recording of the Norwegian punk rock band Wannskrækk, performing at Talleiv Taro Manum's Ringnes Festival in August 2013. The two reels of super8 film correspond in length to each side of the record and show it making itself from conception to birth and early life. It is the conscious assembly of memory, the manufacture of something to get nostalgic about.
In one scene a driveway leads to a house and outbuildings that stand alone amid the sunlit agricultural Norwegian pastoral. Tore comes out of the front door (I know it's him, I've met him before), Ola Torjus, Talleiv's four year old son, walks in front of the camera and ceremoniously hands him a long play record in its black sleeve. It is not the first time this has happened, the giving of the gift of an artwork that contains a weighty piece of the person receiving it. Tore takes the sleeve with the practiced solemn awareness of someone who knows that without exactly the right combination of admiration and gratitude, feelings could be hurt. His hands move over the shiny surface to a position where they can open the expected gatefold: and lo, there is no gatefold, it's just a sleeve, ha-ha, good one Talleiv, very funny.
A painful awareness of the shortness of life and an urgent need to live and record it to it's full is manifest in this scene, which for me encapsulates my knowledge of Talleiv's work. These two grown men have been playing tricks of varying elaboration on each other since 1987, and throughout the time I have known him, the artist has teased me with a multitude of similar slapstick moments of speculative romanticism. Don't mistake it for a joke though, this is deadly serious stuff and nothing is taken lightly. Everything we see is intended to be there, trees were planted, buildings built, relationships were formed, went to hell, and were resurrected. We know each other well; we know what hurts and what amuses and then we engineer situations where our beliefs in our knowledge of each other can be tested.
Nostalgia is a dangerous chord to twang, memory a notoriously unreliable chronicler of events and film, a hopelessly inadequate recorder of memory. A grass airfield, a single light aircraft, a windsock. I remember those things on the super8 drive towards Tore's house, or do I? Are they in fact from the super8 film in my head from my many summer (why always summer?) journeys back and forth to visit Talleiv on the L22 train between Oslo S and Skotbu? Does it matter? To Talleiv it does, I will be reprimanded for this lazy recollection. The fact is that this 52-minute picture-track for an album from a festival from a farm in a world like no other, is for me an expression of the fallibility of memory in general, and our universal need to enshrine it in stone; or in Talleiv's case, asphalt, but that is another chapter in this story.
"I just thought there would be more", says Patricia Arquette as Mason Jr's Boyhood mother. "There is more", replies the art of Talleiv Taro Manum, only now that we know what it is we want more of, we have to construct the memories we want to have.


-


skotbu.no