Noplace, Oslo proudly presents:
TURNS
Signe Becker & Ingvild Langgård
03.05.19 – 19.05.19
Opening: Friday 03.05.19, 20:00 – 23:00
Performance starts at 21:00
...
Opening hours 14–17, Saturday and Sunday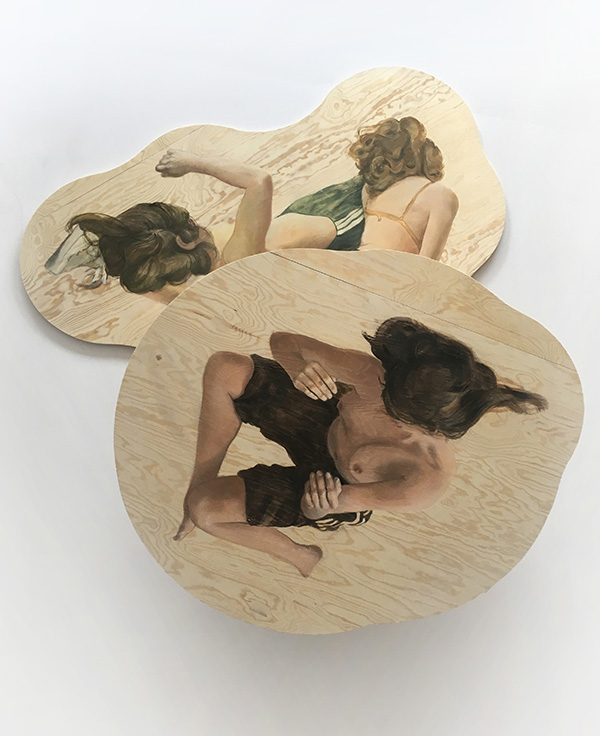 I saw a young man. He was smiling, while looking down onto the ground, like happiness was too grand for him to take in. He had torn some flowers up from a bed at the side of the road, black lice crawled along the stems, into his hand. For a moment I believed it was me walking over there. For a moment I believed I was the one who would soon sleep underneath an open window.

For a moment I wanted to hold you tight, feel your breath on my neck.

For then to let you go, to let you do your stuff, to know that I exist somewhere out there where you are, on the tram or where you are drinking your coffee in the morning. That moment when you receive the porcelain cup from the chubby man behind the counter and smile, then I remain in your smile. I remain in your hand resting in your lap, with your fingers twirled around the handle of a plastic bag. I endure in your gaze, swiftly scanning the landscape flying past, through a pane of plexiglass, where someone has scratched in letters that no one else can decipher. I remain in those scratches. I remain in that gaze. I remain in that hand. I remain in that smile.



- - -



Jeg så en ung mann. Han smilte og så ned i bakken, som om lykken var for stor til at han kunne ta den inn. Han hadde revet opp noen blomster fra et bed i veikanten, svarte lus krøp langs stilkene og inn i hånda hans. Et øyeblikk trodde jeg at det var jeg som gikk der. Et øyeblikk trodde jeg at det var jeg som snart skulle sove under et åpent vindu.

Et øyeblikk ville jeg holde deg inntil meg og kjenne pusten din i nakken.

Og så ville jeg slippe deg, så skulle du få gjøre greiene dine, så ville jeg vite at jeg finnes et eller annet sted, der ute hvor du er, på trikken eller der du drikker kaffe om morgenen. Når du tar i mot porselenskoppen fra han tjukke fyren bak baren og smiler, da finnes jeg i smilet ditt. Jeg finnes i hånden din som hviler i fanget ditt, med fingrene snodd rundt hempen på en plastpose. Jeg finnes i blikket ditt som løper over landskapet som flyr forbi, gjennom en rute i plexiglass der noen har ripet inn bokstaver ingen andre vet hva betyr. Jeg finnes i de ripene. Jeg finnes i det blikket. Jeg finnes i den hånden. Jeg finnes i det smilet.